Today's laminate floors offer realistic looking hardwoods, stones and other patterns and colors with accurate surface textures that are practically indistinguishable from the real thing.
But before you open your checkbook or slide that credit card through, here's what you need to know to make a smart buying decision.
Pricing: There isn't a whole lot of price difference between laminates. A dark hardwood laminate may cost just about the same as a marble laminate. The reason is that the manufacturing process is basically the same, regardless of style, color or type. It's a photograph that provides the decorative surface.
What does increase cost is the addition of texture to a laminate, as well as more natural looking surfaces that require a greater number of screens. These higher end laminates may cost more, but they're also more durable and often come with longer warranties.
Floating: Laminate floors are installed by using a "floating floor" system. What that means is that a padded underlayment lies between the laminate planks and the subfloor. The planks are not anchored to the subfloor, only to the edges of other planks. The result can produce a hollow sound when walked upon — and have the feeling of a slight give.
Some minor ridging or peaking where planks are joined may also occur.
Some laminate floors lock together without adhesive on the sides of the planks. These glueless laminate floors have planks that simply interlock together, which makes for easy repair if and when necessary.
Homeowners who want the look of popular high-end flooring – but not the costs, are finding that laminate flooring can be a great option. But if you are among the skeptics who hear the word "laminate" and immediately think of hollow-sounding, imitation flooring that is easily discernible from the real thing, you may be surprised. Today's high-end laminates include authentic-looking textures, beautiful design options, and impressive realism that can make these durable floors hard to tell from the real thing.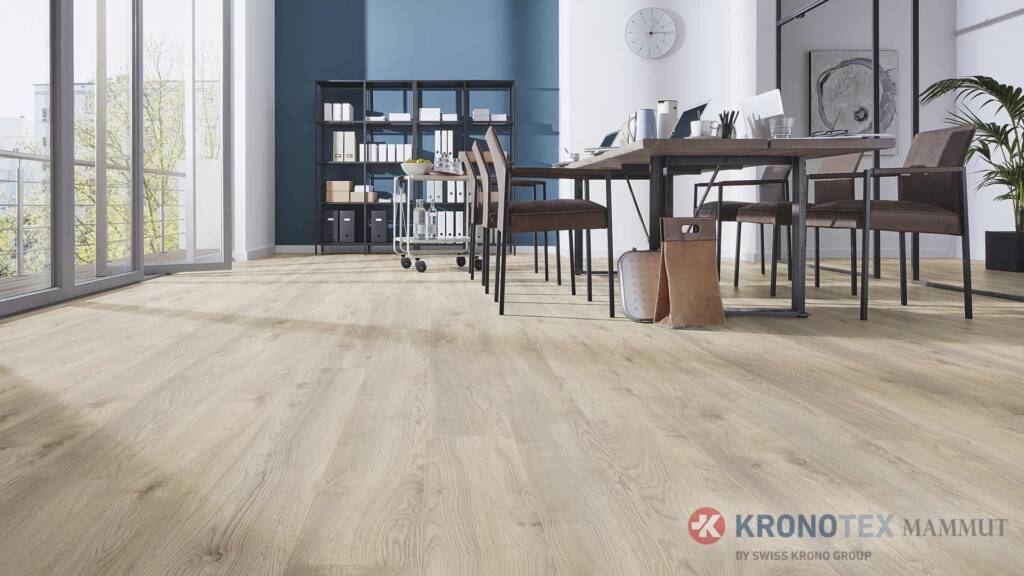 Far more affordable than many other hard flooring surfaces, laminate flooring features an abundance of look-alike design options that can impressively replicate some of the most sought-after flooring. Styles include the looks of popular domestic and exotic wood species, as well as ceramic tile and natural stones including porcelain, travertine, and slate. Laminates can range from narrow boards to wide planks in varying lengths, and tiles come in an impressive selection of designer looks.
But in addition to creating great-looking floors, today's laminate offers far more durability. Laminate's highly durable wear layer makes floors extremely resistant to daily wear, moisture, staining, and the possible fading caused by direct sunlight. And these floors are easier and often less expensive to maintain than other flooring types. Installation is also easier, as most floors can float over a variety of subfloors, including concrete and rooms below-grade level. Many laminates can even be installed over radiant heating systems, which is not generally an option with solid hardwood flooring. The latest click-and-lock technology makes DIY installations literally a snap, further reducing installation costs.
Laminate's construction, overall plank thickness, AC ratings, realism of the look , quality underlayment and moisture resistance are the factors you need to decide for choosing right laminate for your home.